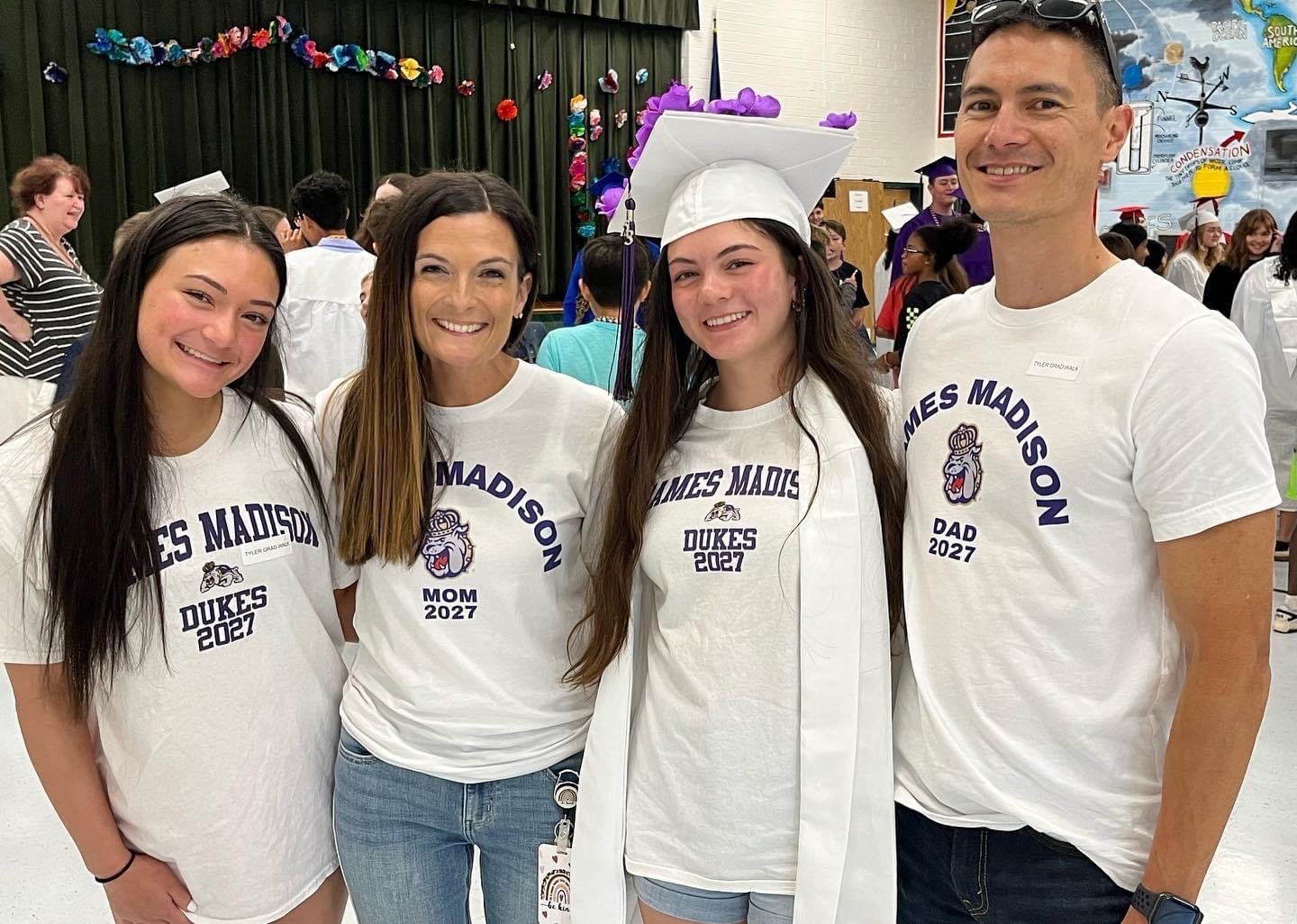 Dear Tyler Families,
Happy summer! I hope you all are enjoying time with family and friends. Welcome to our newest Tyler families. I'd like to share some background information. This is my 22nd year in public education with all of them right here in PWCS. I taught at Signal Hill Elementary and Victory Elementary prior to coming to Tyler as the assistant principal in 2008. I was appointed principal in 2012 and absolutely love our Tyler community. Prior to joining PWCS, I attended the University of Virginia for my undergraduate degree. Go Wahoos (fun fact...I cheered at UVA for four years)! I completed my master's degree in Special Education from George Mason University and my post-master's program in Educational Leadership from the University of Mary Washington. My husband, Ben, and I have been married for almost twenty years and have two wonderful daughters. Our oldest, Jasmine, is off to James Madison University this fall to study Kinesiology. Our youngest, Marissa, attends Battlefield High School and keeps us busy. We have two cats, Sophia and Alex, and one dog, Jack. We enjoy spending time outside and getting to the beach whenever we can.
Our team is working hard to get prepared for the 2023-24 school year. If you pop by Tyler, you will notice some construction in our front lobby. We are open! Please ring the bell and we will meet you at a different entrance.
This summer, we encourage all of our students to read, read, read. You can access recommended lists on our Library Media page. Be sure to check out the awesome summer reading program through the Prince William Public Library system.
If you have a rising KG student or new student, be sure to get them registered as soon as possible. Registration is completed online. To start the process, please visit the PWCS Enrollment page. Please note that the deadline for all students to meet the immunization requirement for mandatory immunizations for public school enrollment is Thursday, August 17, 2023.
Finally, mark your calendars for our annual Popsicles with the Principals event for Friday, August 11th at 2:30-3:30 p.m. on the upper playground. We look forward to seeing you there!
Sincerely,
Jennifer Perilla, Principal
---
Communication
We use a variety of methods to communicate important information to our families. One way is via email, phone, and text blasts. Please be sure that your contact information is accurate in ParentVUE and that there are no blocks in place. Below are other resources to find helpful information.